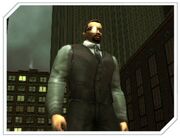 The Dog Pound are an exile gang who are lead by Big Dog, but ultimately serve Sammy "Lilac" Wien. Big Dog leads his gang by fear and intimidation They reside in their local neighborhood, Lamar. They serve as part neighborhood toughs and part protection racket. he constantly pits members against each other in order to weed out any of the weak as well as identifying potential rivals so he could dispose of them.
Leader
Big Dog (318, 1, 129)
Token
Dog Tag
Lamar
Levels
31-33
Flunkies
Puppy/Mongrel
Middlemen
Guard Dog/Fighting Dog
Henchmen
Dawg/Pitbull
Ad blocker interference detected!
Wikia is a free-to-use site that makes money from advertising. We have a modified experience for viewers using ad blockers

Wikia is not accessible if you've made further modifications. Remove the custom ad blocker rule(s) and the page will load as expected.